Hello Descendents!
THANK YOU ALL!
We now have more than 3,000 backers and are off to a rollicking start.
There have been some very passionate discussions on both Kickstarter and our forums and that kind of passion is what is going to help us make our goal and blow right through it.
There were a lot of requests for the iconic ship the Pyro-GX.
As we are a prequel to the original, it did not make a lot of sense for us to have that ship at the beginning but rather have a precursor or ancestor to it, and we had planned to bring that in at a later date.
However, we heard the call and we
put it to the community to vote
as to how your wanted to handle the release of the new ship - called the Torch KS (we may change that and let folks pick a name, but that is the working title for now). Here is one of the early concept versions of it, there will be a lot of changes coming up, but we wanted to show you the first pass.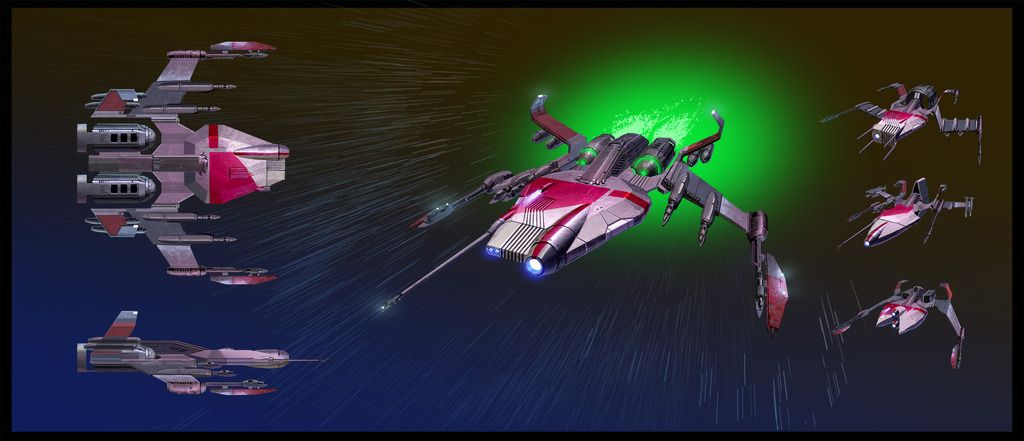 As the community voted overwhelmingly
to add this as a stretch goal, we thought it was only right that it becomes a community event.
The Torch KS will be FREE to all backers who bought a game package during the campaign when our Kickstarter total reaches $650k.
Yep,...
Four Days In - Keep Spreading the Word
It has been a crazy four days!
Over 2700 people have backed our project already. We are humbled by the support, and thankful to all who have come on board. But we're not there yet! Keep spreading the word, so we can knock this out of the park and bring back Descent for a whole new generation of gamers (and a lot of long-time fans, too).
We have seen a bunch of Descent's most dedicated community members join up on our forums, and they're adding their voices to the excellent feedback that we're getting from you. Check out
Connie's blog
to see the latest MVP posts about the essence of Descent. We are ecstatic about the level of experience and passion that YOU are bringing to the community. Come to
our forums
and add your thoughts to the mix: feedback from the community is essential to making this project a reality.
We're already moving ahead based on feedback from the community. By popular demand, we added two new tiers to the Kickstarter campaign. The $25 Prepare for Descent package is a no-frills game package that's easy on the budget. The $85 I Did It My Way package gives players a chance to pick the ships that best suit their play preferences. If you've pledged, THANK YOU! If not, come join the party! With your support, we can make this game a reality. We're also asking for your feedback on one of the hottest topics at our forums: come
vote in the poll
on bringing back the predecessor to the Pryo.
Good news for getting the word out - Descendent Studios and Descent: Underground are all over the press. We've already had coverage...
We've added TWO NEW tiers based on YOUR feedback!!
First, a $25.00 "Prepare for Descent" tier
for those wanting only the game
We've also added an $85.00 "I Did it My Way" three ship package
for those who may not want the Wasp in their arsenal.
You spoke, and we listened! More news coming!!
Pledge your support at http://descendentstudios.com/ks
#PledgingMakesYouSmarter
Greetings All!
This MVP award is given to TWO members who are actively contributing to making
Descent: Underground a better experience for all!
Congratulations, Drakona AND Lotharbot!
Our team especially enjoyed your vision, here:
http://descendentstu...ent-essentials/
Please enjoy the badge that will appear on each of your DS website Avatars!


You will also receive a shoutout on our Facebook (https://www.facebook..._homepage_panel)

and Twitter (https://twitter.com/descstudios) pages.


Like and Follow us to get more news from Descendent Studios!
Everyone else, remember! Our MVP badge is awarded every week to a member who has supported the game in a positive way (creativity welcome!).
A View From Above (Roadmap)
Afternoon Everybody!



Several Descendents have asked about when they should expect Proving Grounds, Alpha, Beta, etc... So I figured I'd post a little bit about our high-level milestone schedule.



Proving Grounds starts in August 2015 and goes on forever - as people will be testing new weapons and maps before they are approved to go into alpha testing.



Alpha Testing starts in October 2015 - a few good pilots needed to help us balance all the game play.



Backer Beta starts in January 2016 - you backed early, you play early.



Launch (Single Player Prologue and Multi-Player) March 2016 - Wohoo!



Epic Single Player Campaign August 2016 (provided we hit our upcoming stretch goal for it).



Cheers,



BlueDog



Below is today's live-stream where Wingman and Rob chat more about single player, the road-map, and a bunch of other stuff.




First Update on a Fantastic Kickstart!
Greetings and many thanks to everyone in the Descent: Underground Community!
https://www.youtube....

As the type enters this blog post, we have received $142,095 in pledges from 2,186 backers. Already we're a staff pick!
On that first day we earned about 20% of our entire goal! We're trending to an amount that will give you a stellar space experience with incredible graphics, varied and detailed maps, intriguing ship designs and customization options, and all the other aspects of a perfect space game.
The enthusiasm is rushing forward with hull-shattering force, and we have you to thank! From these beginnings, we're on track for a smashing success.
So how can you help now?
Make sure to spread the word to your friends, and keep visiting our
website
and Descent: Underground's
Facebook page
. This game needs more love and support to come to life!
Here is a little link to our Kickstarter
update
. Take a look, and you'll get another cool surprise: a sneak peak video of a WIP battle map.
As a side note, Zaubermancy is glad to be back!
We've Got Something Wonderful Coming
Please share!

We're getting ready and so should YOU.
See you Tuesday at 12:00pm CST :-)
- Whitener
We're Putting the Band Back Together
Hi, Descendents,



My name is Rob Irving, and I'm the Creative Director here at Descendent Studios. You'll see me under the moniker Designopotamus on the web site.



For those of you who don't already know me, I've known Eric and Mike since way back in the early 90's at Origin. I got my start on Strike Commander, and I shipped a bunch of different games during my career at Origin, including several Wing Commander titles, Longbow (officially titled Jane's AH-64D Longbow, for sticklers), and several Ultima Online expansions, to name a few.



Over the course of my career, both in and out of the game industry, I've held titles ranging from designer (and lead designer) to every flavor of producer to programmer and tech director, and that doesn't even begin to cover all of the different roles I've filled while building games. (I was even the voice of the aliens on Wing Commander: Prophecy!)



I like meeting our community, I like Legos, I like writing, and I'm an enormous sports geek.



My philosophy of games is quite simple: make the rules simple and consistent, so that people can easily immerse themselves in our world, and – above all – make it FUN!



I'm looking forward to bringing our new project to life, and sharing the road with each and every one of you out there.

So hello to some of you, and hello again to others. Let's gear up for a great trip!



Rob
Henley Cares - Uncle Dan Talks Mine Safety
Hi there, folks. I'm "Uncle" Dan McGee of the Durango Daggers. I came by today because "Grandpa" Joe Henley asked me to talk with y'all about safe recycling. That's what you do, folks- you're "recyclers", not "dump miners" or "trash pickers". Don't let any of those lazy screen snobs call you names…



You're all hard-working, red-blooded heroes in my book! When you go down into the mines, you bring back the stuff that helps us all live and work in peace. If you think about it, we do the same job, you and me- we help people by finding raw materials the world needs to rebuild and be happy.



Okay… Sure, I got a spaceship… Ho-ho! …and plasma missiles. But both of us face danger every day on the job. For me, that might be a laser blast or a proximity bomb, but in the recycling mines danger hides in plain sight. Take a look over here…



Do you see that rusty tube? My buddy "Ranger" Paul is about to harvest it. It looks like a valuable piece of iron pipe, so he pries it out of the wall, and…



BOOM!



Yeah, luckily Paul didn't get hurt that time, but that gas canister could've cut him real bad. Worse, it could've had some kinda fuel in it. Sparks from prying it out might've lit it off, then he'd have been doing the "I'm on fire" dance! Ho-ho!



Let's see how Paul should've recycled that cylinder. Notice how he's cutting into the debris around the tube? He's never prying on the tube itself. You can also see how this time he's wearing the gloves, mask, and goggles that Grandpa Joe and the Henley Family provide to all of their freelance recycling technicians. Don't forget your Henley helmet, Paul! There you go!



So, why does Henley Family give out all this safety gear? Well, unlike some companies, the Henleys know it's better to keep people...
Drillsey Unlocks the code!