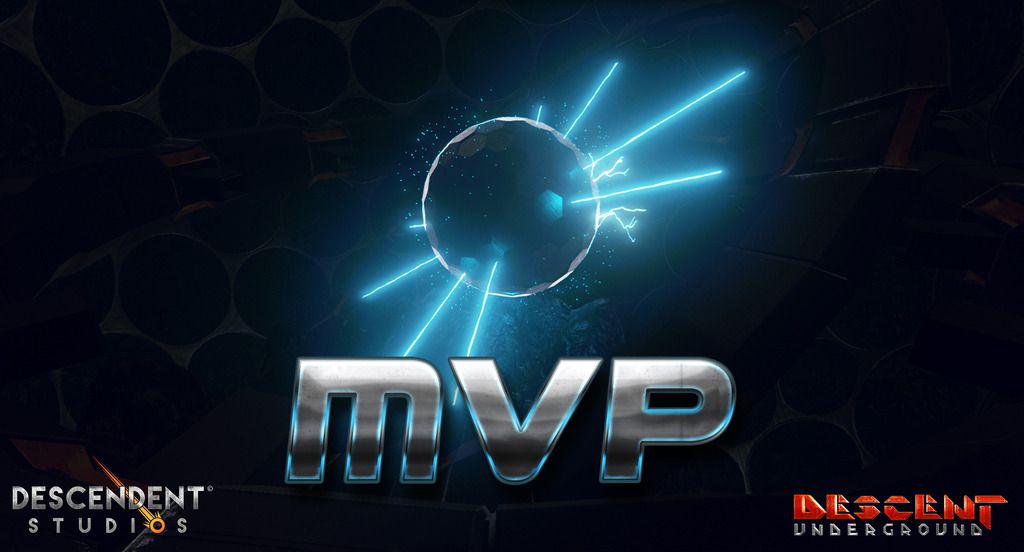 Hello Descendents!!




Our MVP award is given to members who actively contribute to making

Descent: Underground a better experience for us all!


Congratulations

Tron




Tron had an excellent thread earlier in the campaign outlining what Six Degrees of Freedom meant and why it is so cool.
Please enjoy the badge that will appear on your your DS website Avatar!
You will also receive a shout out on our Facebook
and Twitter pages.
Like and Follow us to get more news from Descendent Studios!
Everyone else, remember!
Our MVP badge is awarded to a member who
has supported the game in a positive way (creativity is encouraged!).
Our great moderation team picks a member each week who goes above and beyond.
Thanks and see you all Underground!
Wingman
Week In Review (5/01/2015)
Hello All,
Our new store is live!
We have all NEW packages and an opportunity to join "
The Underground
".
Members of "
The Underground
" get:


Access to online design meetings

Access to "The Underground" forum

Alpha and Beta Access!!!

Join now during our limited time offer of $79 per year.
This represents a savings of over $40 from the normal membership cost if you selected the $10 a month option and a $20 saving over the usual $99 yearly fee.
The $79 special is available only until May 31st 2015.
Our art pipeline is in full swing!
The art team is currently working on:


Re-imagined Auger. As great as the current Auger is, our art style and approach to ship construction has changed since the early days of putting out demos for the Kickstarter project. So, we need to take another look at the Auger. To that end, one of our concept artists has already created a slew of thumbnail sketches.

Concepts For Map #1. Yeah, not a great name yet -- that will change. This map has a real mining feel to it and the concept art will reflect that.

Concepts for Power-Ups/Weapons/Tools/Gadgets. There are TONS of these and we need concepts for them before we go to modelling.

White Box "Lego" Pieces. These pieces have been built and are ready for a designer to start white boxing the maps. White boxing is when a designer or artist lays out the map or level with basic shapes. This gives you a feel for game play and size prior to going into more detail. Doing so, saves time in the long run -- hopefully.

Predator Concept. We had our Predator kick-off meeting earlier this week and now the concept artist is hard at work on it. Our ship kick-offs are where the designer, producer, art director, concept artist, and modeler (others may join in as well) get together to discuss the goals for that ship. In the future, we'll probably record some of these meetings and make them available for you guys to review. They are often kind of ...exciting?

Wasp Modeling. You guys remember the Wasp, right? Yep, we've decided to go ahead with that concept. So the modeler began this week. From a production perspective, this is a bit of an odd one in that we are starting on the Wasp now, but the modeler will move to something else before he finishes and then go back to the Wasp later this month.

Panzer Modeling. We've made a couple of changes to the concept but it's ready for modeling now. Look for some renders of the Panzer towards the middle of this month.

Drone Bay UI. Our UI concept artist completed a first pass at the drone bay UI this week and it looks good! A few changes are coming though but it should be done next week.

As...
Hi all!
I thought folks would be interested in a tech update - the engineering teams are working on three main tasks currently:


Importing the KS data to our web site to get all backers their badge, ribbons, and packages displayed - and letting Kickstarter backers who don't yet have DS accounts claim their pledges.

Clean-up some of the game code used for the Kickstarter video.

Further tech design and planning as more game design decisions and changes are made.

Since the Kickstarter data import has been getting the most questions, I'll give some detail on it.


We exported early, incomplete data from Kickstarter to examine the format and data, and get a head start on the process. We also wrote a user and tech design document to describe the requirements from user's perspective, the methods we plan to use, and any technical challenges or caveats we had to handle.

We created packages (the entity that represents what a user purchases) in the e-commerce software, and we also created groups and award ribbons in the forum software.

We researched the e-commerce software API but found they had no API method for assigning packages to users, so we then researched it's DB schema to figure out how to do so cleanly.

Then we exported the final data from Kickstarter once they finish collecting all the pledges possible.

We then fixed up that data (because it comes in per-reward files, many with different columns) and imported it into a DB.

Next we wrote code to match the entries in the Kickstarter data with DS accounts, and review the matches to look for any potential bugs or problems. For example, we found some false positive matches on one iteration - we had to change the code to not match them. We also didn't want to match login name responses of "Nope" to a user named "Nope" - otherwise they'd end up with a lot of unexpected rewards! :-) In general, we have to make the code handle all those special cases or we have to manually modify the data to avoid those problems.

We then create code that will apply the rewards to the appropriate accounts and send emails to the users, and we create pages that will allow for manual matching or account creation for pledges that couldn't be automatically matched to existing DS accounts.

We also updated the store showcase page code to show package groups so we can show Underground memberships and add-ons in the store.

In addition, we are parsing and (also) manually processing the survey results and Kickstarter comments for pledge add-ons. We may not get the add-ons processes in the first pass you'll see of the Kickstarter data import: if not, we'll keep working on it so you see it soon.

Where...
Stoking the Campfire and Wingman's Hangout #9
Howdy!
I'm Keith- Dunkelza on the forums, and I'm the new Community Manager for Descendent Studios. I'll be continuing on as Lead Moderator, helping to keep our forums and chat friendly and focused on the goal of making Descent: Underground the most awesome shooter ever released. In addition, I'll be working with the team to grow our community and to enrich your experience as a member of that community.
Some of you might also remember that back before the Kickstarter, I was helping the team with lore- telling the story of how Earth got used up and how vast megacorporations are fighting over the scraps that remain. Lore is coming back! Keep an eye on my campfire here for new stories- heck, pull up a log and stay awhile!
<<<<>>>>
WINGMAN'S HANGOUT #9
There was an awesome Wingman's Hangout today, with a lot of great answers to your questions:
Tune into our
Twitch TV channel at 11am CDT Wednesday
every week to watch the show live!
I've also started
a thread for next week's FFFForum FFFFeedback
segment, so please submit your questions right here (Video questions would ROCK!):
<<<<>>>>
IN OTHER NEWS:
There are
only hours left
in...
Hey everybody!
I'm Annie, y'all may have seen me announcing last week's MVP. Sorry about the hat - it was a long class day.
A little bit about me - I watch far too much TV, love popcorn, basketball, and all things Batman. I'll be helping out as Media Coordinator for Descendent Studios, reaching out to bloggers, streamers, and writers to help get the word out about Descent: Underground. I'm so excited to join the team and would love hear any suggestions y'all may have. We're all pumped about Descent: Underground and could not do it without your continued support!
Just a couple of reminders/updates: backer status should be coming out soon and each week's MVPs are decided by forum moderators. In case you missed it here is last week's MVP.
https://www.youtube....

Be sure to follow us on
Facebook
and
Twitter
,and also check out our
Youtube
page for the latest updates!
Thanks for your support!
Annie
Monday Meetings - Including the Wasp!
Hello, Descendents!
We're still hard at work pulling together our pre-production so that we can be moving at full speed come May 1st. Today we had our first in-depth design review with the core team, so that we can make sure that nothing is being overlooked and that everyone is on the same page with where we're going.
What does that mean for you? Soon you'll be seeing your first glimpses of the game's in-depth design ideas!
Of course that means sharing information with our Advisory Board and initial peeks into some discussions for Underground members, but it also means more in-depth design posts and more extended game mechanic discussions on Design Underground and other videos.
Speaking of Design Underground, you can take a look at the latest short design update on YouTube, where I talk about what we're up to right now and what it means to the game:
In other news, Kickstarter has released final data, and our web team is working hard at getting all of your accounts updated with backer status and all of the appropriate goodies, as well as an update to the site to make all of the add-ons available here for those who missed out during the Kickstarter campaign. Expect continued updates as work progresses.
And you may have noticed that the Wasp concept has made an appearance on today's post. We're working on getting concept art for all of the game's core ships, and some enemies as well. Stay tuned for more updates on that front, as well.
Don't miss the next Wingman's Hangout on Wednesday at 11 AM CDT (UTC -6) on the
Descendent Studios Twitch channel
,...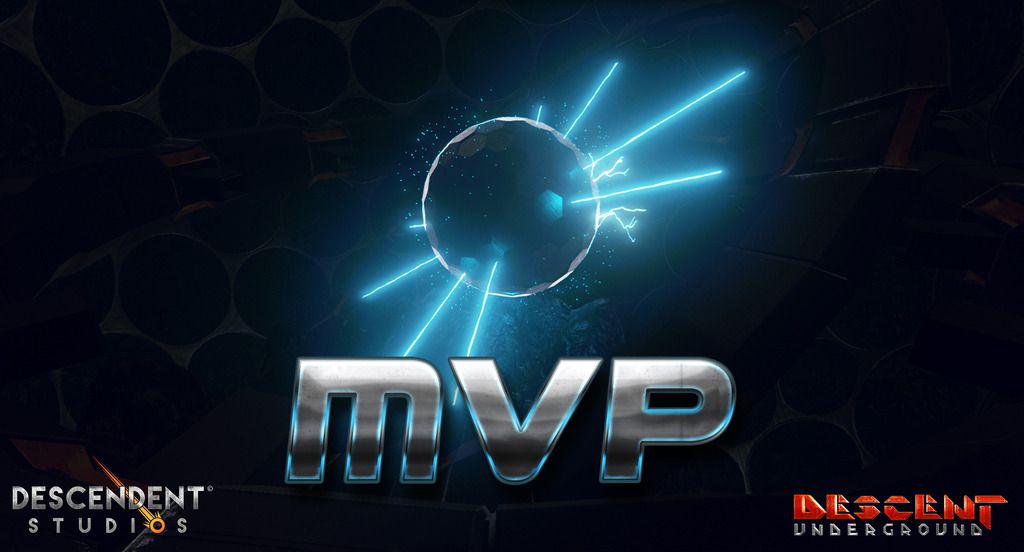 Hello Descendents!!
Our MVP award is given to members who actively contribute to making
Descent: Underground a better experience for us all!
Congratulations
Shogun
For his thread on helping new people get up to speed on Descent Underground.
Please enjoy the badge that will appear on your your DS website Avatar!
You will also receive a shout out on our Facebook
and Twitter pages.
Like and Follow us to get more news from Descendent Studios!
Everyone else, remember!
Our MVP badge is awarded to a member who
has supported the game in a positive way (creativity is encouraged!).
Our great moderation team picks a member each week who goes above and beyond.
Thanks and see you all in the verse!
Wingman
Week In Review (4/24/2105)
Hello Fellow Descenters,
We are ramping up production and in very short order new design details, art, features, and yes, maybe even a spreadsheet or two
will be available for all the world to see.
Steve Stankiewicz came by for a second time to record life at a small indie studio. We and another studio or two are part of a documentary Steve will be releasing in about a year. He'll be coming by now and then to document how the sausage is made. I'll keep you posted.
As if that's not enough video taping, Viewmaster is installing cameras in our design conference room to capture some of our design discussions. Bits and pieces of that will be released here, there, and everywhere.
The crew here reviewed the overall design with Rob and it looks exciting -- I can't wait to play! Speaking of design, check the
calendar
for the next showing of Rob's Design Underground.
Last week, we release some awesome box art (thanks Kaji). Well it looks like some other Descenters with talent have pitched in as well. I have to say it's great have so many talented people in our community.
Here's just a few...
One from Goznik
And one from Silver.
As always, have a great weekend!
BlueDog
The Evolution of the Panzer
Hey, Descent fans!
Remember when we told you that we'd take you through the development process every step of the way? Well, we're keeping that promise!
Today, in between marathon sessions writing our Game Design Document, I hopped into an meeting with the team about the new concept for the Panzer. (Of course, that name might change once we get the Kickstarter data ported over and reach out to the people who want to name some of our core ships!)
You might recall that the original concepts looked like this:
We talked about these LIVE during the stream on the final day of the Kickstarter. If you missed out on us taking about pretty much anything for 9 hours, the whole stream is now up on YouTube (with sound restored - thanks, Mike!). You can check it out
here
,
here
,
here
,
here
,
here
, and
here
if you missed it.
We asked people what they thought about the Panzer thumbnails, and the votes were pretty much all over the place, which was also the case in the studio. The only consensus: it needs to look muscly, intimidating, and able to take a beating! Josh (you'll meet him soon)...
Get Into the Groove . Wingman's Hangout ep08 is up
Woot! We got episode 8 of Wingman's Hangout out to twitch and on the youtubes. F-F-F Forum Feedback is back with answers to your pressing questions. We take you on a personal tour of our massive 1400-square-foot office complex. And that pesky Creeper Dev is back.
Watch episode 8 right here.
Tune into
TwitchTV channel at 11am CST
to watch the show live then catch it on-demand with our new
Playlist on YouTube
.
F-F-F FORUM FEEDBACK IS BACK!
And, if you have a question for next week's show, submit your thoughts, illustrations, and videos in our forum thread:
http://descendentstu...-fffffeeedback/
We love creative videos from the community. You can vastly improve the chances of having your question answered with a cool video. Just remember our mantra: "Don't Suck." :-D
And tell us what you would like to see in the show. Perhaps you have a cool idea for a new segment. Perhaps...