1
Spotlighting Package Boosts and Pledge Add-ons
Posted by Designopotamus , 29 March 2015 · 1,665 views
descent underground
kickstarter
packages
pledges
Hey, Descent Lovers!
Just wanted to drop in today and make sure that everyone was aware of the great changes to the
Descent: Underground Kickstarter campaign
.
As the blog image shows, we've boosted the top level packages. All backers at the $250 level and above will now receive a printed, bound version of the Descent: Underground art book, rather than a digital copy. The BE A LEGEND tier will now also include a digital copy of the game's soundtrack. All boxed copies ($500 and above) will receive a physical copy of the soundtrack.
These increases to the reward levels come hand-in-hand with the addition of new add-ons available on the Kickstarter campaign. If you are interested in adding any of these items to your pledge, simply use the Manage button next to your pledge on the Kickstarter page, add the amount to your pledge for the item(s) that you want, and let us know in the comments what you added.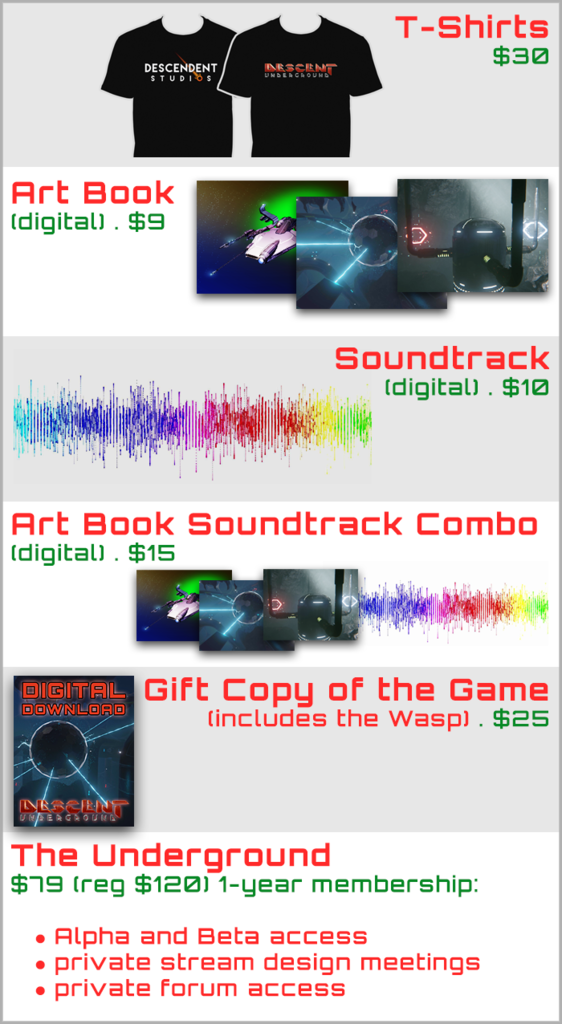 We're down to the last two weeks, and we're already more than halfway there, with nearly 5000 backers for the campaign! Keep helping us spread the word, and we can make this fantastic game a reality.
We'll have a lot of big updates this week, so stay tuned.
Rob